The Muslim Issue
Iranian foreign minister angers supporters with human rights claim
Mohammad Javad Zarif is accused of lying after saying during a Charlie Rose interview in the US that Iran does not jail citizens for their opinions.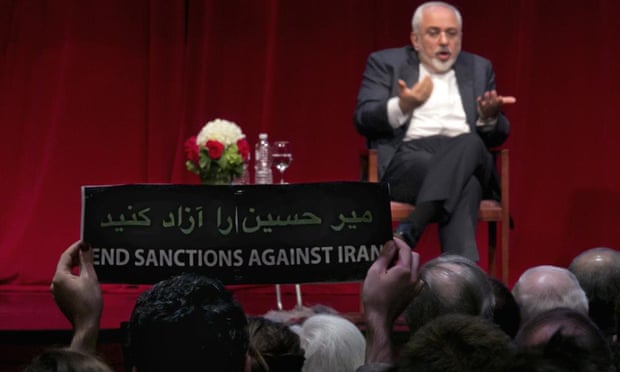 A sign during an interview with Iran's foreign minister in New York carries one message in Persian and another in English. "Release [opposition leader] Mir Hossein Mousavi," it reads in Persian. Photograph: Richard Drew/AP
Saeed Kamali Dehghan
Friday 1 May 2015, [left wing] Guardian
Iran's foreign minister is facing a backlash from his supporters, after claiming in a recent US interview that his country does not imprison citizens solely because of their opinions.
Mohammad Javad Zarif, who remains popular in Iran for his handling of the nuclear negotiations, appeared on the Charlie Rose talkshow this week while on a visit to New York for a review conference of the non-proliferation treaty at the UN.

"We…
View original post 758 more words